Review of Cloud ERP choices
Cloud ERP inventory for wholesalers, manufacturers and importers
Unleashed, Dear Inventory, Cin7, Neto and Trade Gecko compared and reviewed, in a nutshell
GrowthPath has migrated clients in Malaysia, Singapore, New Zealand, the UK, PNG and around Australia to cloud ERP solutions. The clients left desktop solutions sch as MYOB and SQL Server-based legacy systems for cloud-based accounting and supply chain solution (ERP). We have success with Xero + Unleashed, Xero + Dear Inventory and Xero + Cin7. At the moment, we recommend Dear Inventory for most clients needing a supply chain solution, and Cin7 for more advanced requirements including POS, an integrated B2B portal and better logistics and market-place integrations. We see the competitive pool also including Unleashed and Trade Gecko, but at this stage Dear and Cin7 are our recommended solutions.
Broadly, Unleashed, Dear Inventory and Trade Gecko are competing for the same target market. They are good general purpose supply chain solutions for wholesalers, and they provide a number of integrations for e-commerce sales channels and cloud CRMs.
The traditional server-based monolithic 'do-everything' systems are dying, but some have emerged as hosted solutions. This article doesn't consider these systems, such as MYOB Advanced or the Microsoft ports which come under different names. These systems generally offer a more sophisticated accounting solution, but they have a much smaller base of connectivity with e-commerce, CRM and other cloud-solutions. GrowthPath emphasises software solutions which are built from the ground-up to integrate with other cloud apps: this does mean complexity with synchronising apps, but it offers much more flexibility and innovation. When we talk of "pure cloud ERP", we mean those systems which have open APIs and a deep ecosystem of connected apps. In the second half of 2018, both Dear and Cin7 are rolling out new tools to make the accounting integration better, which addresses one of the perceived weaknesses of the non-monolithic pure-cloud approach.
A note: this is a very competitive market. Features are being added quickly. Dear Inventory spent the second half of 2017 building a new interface and rebuilding their API into the best on the market, and in 2018 has resumed feature rollouts, and there are many coming. Cin7, Unleashed and Trade Gecko are also adding features consistently.
Cin7, in my opinion, targets more complex businesses. It is considerably more expensive, but it has features not found elsewhere, such as some multi-entity support, EDI and forecasting, and the best POS and B2B portal, a mobile-friendly Pick & Pack module and more rigorous accounting integration tools. Cin7 currently prices by turnover and users, unlike its competitors, which price purely by users. Cin7 offers both deeper ERP functionality and much broader functionality. It is the only option if you want to weight landed costs by dimensions (weight and volume), for example.  It has better multi-entity support. In terms of broader functionality, it offers EDI and forecasting, includes goods POS and B2B portals, a mobile-friendly Pick & Pack module, a basic CRM and rigorous accounting integration tools. Cin 7 is more open to customising functionality.
Unleashed has the best user interface. But Dear radically overhauled its interface in the second half of 2017. The first phase of this was the introduction of an advanced sales module which enabled a more sophisticated multiple-fulfilment workflow and some faster processing of orders, but at the cost of losing bulk actions, so I think Dear users are looking forward to this being completed (and bulk actions coming back).. Trade Gecko's interface is quite nice, no complaints.
Cin7 has a complicated and information-dense user-interface, which is overwhelming but rewards those of us who take time to read the documentation. I suspect the developers have been the most influential rather the UI experts.
Neto is an odd fish. Mostly known in Australia, it was originally an online shopping product similar to Shopify (but more capable and better designed). It was able to serve both consumer and small-scale wholesale channels. Over time the product expanded to have a pick-pack module, beating every ERP except Cin7, and it has a POS option. Its once-rudimentary inventory management features have grown to include an attempt at purchasing and costing. Most businesses of any scale won't find it good enough yet: it is crippled by no real multi-currency, and it still lacks depth in its stock management. The 'pure-play' ERP vendors still have a large advantage in supply chain management, and at the same time they are all adding POS and B2B portals, although they are leaving B2B e-commerce to the specialists. I am not yet ready to group Neto with the genuine ERP products but it's one to watch. In its original role as a frontend for online commerce, it's a good choice, although Dear no longer integrates with it (Cin7 has a good integration). 
Who is moving to Cloud ERP? Not just MYOB upgraders.
It's not just a question of upgrading from MYOB. GrowthPath implements cloud ERP for businesses leaving SQL Server-based mid-tier packages such as SAP Business One, MYOB Exo, Prism and Attache. Integrated cloud ERP can't match the core accounting power of mid-tier systems such as multiple legal entities, but they have advantages in cost, speed of deployment and vastly superior integration with CRM and online commerce. They remove the need for servers and remote access, which are both expensive and security risks. Cloud ERP systems are much easier to use. Clients see a much greater use of features among staff because these systems are simpler to understand. New hires get up to speed faster, and existing staff get more information more quickly.
The heavy lifting is done by the cloud accounting and supply chain combination (the traditional ERP scope),  commonly Xero + Unleashed, or Xero + Dear Inventory. The loosely coupled nature of the systems is not all positive, but as a business looks to add more automation and business intelligence to the way it works, the plug-and-play approach becomes vastly superior. SMEs can access IT as good or better than anyone had five years ago. This is an incredible levelling of the playing field between medium sized SMEs and large businesses. It's bad news for traditional ERP vendors. The functionality gaps are closing fast and in core ERP and fulfilment, there are already clients leaving legacy ERP who don't find any backwards steps. The rate of innovation in the cloud ERP is concentrated among a small number of products, unlike the hundreds of SQL Server-based ERP choices, which means potential clients are getting a lot more innovation bang-for-buck. 
What are the options for cloud ERP?
Xero does accounting very well, and for vendors of ERP packages, Xero solves a lot of problems: ERP vendors can leave local tax, reporting and payroll to an expert, and concentrate on managing the supply chain. This is good for customers too; you don't pay for the wheel being reinvented.
There are several cloud packages which offer excellent wholesale supply chain functionality at prices from $90 to $400 a month, typically. The features you get are a selection of:
multi-warehouse stock management system with sales orders, quotes, purchasing, warehouse transfers, returns, stock takes, bin locations
Multi-currency customers and suppliers. Pricing rules. Shipping rules. Backorders. Online integration. Online stores. Serial numbers and batches. Auto builds, and even simple backflush manufacturing. 
Landed Costing
Pricing rules which are much, much more powerful than Xero alone.
Not all systems support all of these features; this just gives you an idea.
Since 2016, GrowthPath's general recommendation is Dear Inventory + Xero, or Cin7 + Xero for more sophisticated requirements. Cin7is more expensive but has some broader functionality, more integrations and some advanced features for some specific verticals. Cin7 also is much more flexible for customisations. It has a better B2B module, better POS and better warehouse management, and some more advanced costing options. Most clients find Dear easier to use (countering that, Cin7 rewards power users with more information at your fingertips), and Dear handles more complex fulfilment flows much better. Dear's API is a lot better, it's the mst powerful API of any of the cloud products I consider, particularly since early 2018.
Both of these packages are consistently making highly useful improvements in functionality. In 2016 Dear had no mobile warehouse support, no POS and a sketch of a B2B portal; by the end of 2018 it will have useful functionality in those areas. By then, though, Cin7 will be even more advanced with its integrations; it already has the best integrations with Neto & Shopify, and it will have even broader 3PL support. Also of note: Cin7 has developed some very good functionality for long lead time, make to order businesses which is well ahead of competitors, it offers a genuine omni-channel solution thanks to its good POS, and it is the only cloud ERP which offers multi-entity support (that is, a business spilt across multiple legal entities). I am very impressed with both Dear and Cin7, and so are GrowthPath's clients. 
About Unleashed
Dear and Unleashed are very close competitors. Unleashed was an early cloud ERP system. It seemed to rest on its laurels for a while, and has been well overtaken by Dear; Unleashed has restarted developments but Dear is not standing still, and at this stage the general level of functionalty and excellence of Dear leads me to recommend it. It probably offers the simplest user interface of the three. Regarding goods flow, it offers ways of working from one-click order-to-invoice all the way to backorders and partial shipments. Unleashed also has a manufacturing module with offers basic assembly and repetitive manufacturing, with backflushing. It also supports kitting in a simple way. It does serial number tracking and supports bin locations as well as multiple warehouse locations. It has decent support for stock takes. It also supports single-bill-to and multi ship-tos, so you can invoice head office of a national chain while shipping to various locations, which is a big step up from MYOB/Xero. Costing is average costing. Unleashed offers real inventory system functionality, unlike the micro-business functionality from by Xero & MYOB. 
Dear Inventory is similar to Unleashed, but it has a particularly powerful integration with Xero. You can map Locations to Xero's tracking categories, which means you can produce P&Ls per location. Trade Gecko started offering a similar feature in late 2016, and Cin7 has a link to Xero's tracking categories which is close but not quite as good as Dear.
Xero specifically is covered elsewhere on this site: (More on choosing cloud accounting systems.).
Note that you are not limited to Xero. All of these products work with Quickbooks Online, and via third-party integration support, many of them work with Saasu, and possibly others. Xero is my recommended choice for various reasons discussed elsewhere (see link above). 
How is this different to enterprise class software?
A cloud ERP has one big weakness: we need workarounds with tracking categories to support multiple legal entities, and we can not fully reproduce sophisticated inter-entity transaction flows (such as automatically balanced inter-entity bookings). Enterprise-class systems allow for different tax systems, so in one system you can keep track of Australian, British and New Zealand GST/VAT. This is possible in Xero, but with some workarounds and manual work (which can be automated, to be sure). Cin7 does actually have some support for multiple entities, but I have not evaluated it yet. It does include shared stock visibility, but how it works with accounting is something I look forward to exploring.
On the other hand, compared to enterprise systems, the cloud solutions I suggest here have much better Australian localisation and they are much, much more nimble and innovate in their third party integrations. That is, payroll, GST and bank feeds are usually not very good in the larger systems, which are not very tweaked to the Australian market (and most larger clients outsource it anyway). A small but telling example of how good localisation is: Xero submits new employee TFN declarations directly to the ATO. It goes way beyond that: payroll calendars with state holidays, HELP/HECS deductions, changes to BAS submissions ... you can expect Xero to be well ahead of its larger competitors when it comes to localisation.
If the inter-entity feature is important, you will need to look at next-level systems, many of which now have some kind of web interface. However, be prepared for total implementation costs of $50K to $100K and annual licence fees of around $1000 a month. We could write a decent inter-entity addon to Xero with lots of spare change left over :) 
Cloud systems are designed to be integrated, and in 2017 the best CRM and e-commerce platforms are cloud-based. Cloud business intelligence systems (data visualisation, dashboards etc) are not absolutely the best, but they are now very good and much, much cheaper than traditional offers. If you want very good CRM, e-commerce and advanced reporting, SMEs are looking at cloud solutions even if they have a legacy ERP, and cloud ERPs are much, much easier to integrate.
Cloud systems deliver extraordinary value for money. Never before has so much functionality been available at these prices. The integration of web services is a huge reason: previously, every ERP vendor had to duplicate payroll, accounting, and tax. It cost a lot of money but didn't differentiate the product. Then the vendors added generally poor CRMs as well. Now you can plug together really good systems, paying each vendor just to do what they are good at. Also, legacy systems use technology choices which have much smaller developer bases, and on top of that, they tend to have a tightly-guarded, proprietary API. Developers need to have specific skills, and they often need to pay expensive fees to get access to the API. In contrast, a genuine cloud system publishes the API for free, and cloud APIs are not locked into to any particuarly technology. Most cloud integrations are build with open-source technologies, and they have a mass pool of developers. 
Enterprise systems such as Acumatica (MYOB Advanced), SAP B1 etc have developed functionality for larger businesses over many years. In particular, they offer much better support for more complex business "models", where we mean a business which has different legal entities with intercompany trading and loans. They will also typically provide better support for reporting by cost centres and profit centres. They also offer a range of inventory costing approaches, and probably do foreign currency better. They will also allow more flexibility between balance sheet accounts and sub ledgers, and they will typically support more business controls over security and locking of data (a good system will let the accounting team lock AR but not GL, letting them work on month end closing while not allowing new invoices to be entered to a closed month).  Many of these enterprise differences related to the heart of a business system: the accounting engine. Cloud ERP approaches outsource the accounting to a Xero or Quickbooks, both of which are single-entity, simple systems. In other words, the limitations of Xero are a brick wall for the integrated cloud approach.
A note about Cin7
Dear Systems, Unleashed, Trade Gecko and Stitch Inventory are competing quite closely. Cin7 is a more monolithic product, more expensive and more powerful. That is, it includes features which the other systems leave to other parts of your stack. Cin 7 includes a CRM, forecasting, EDIT, multi-entity and a mature Point of Sale system and a mature B2B portal. "Mature" means proven and quite feature rich. It is also a significantly more complex system in look and feel, with a richer set of functionality. We are still learning about it, but as examples of its sophistication, it supports alternative units of measure (Dear and Unleashed have clunky work-arounds) and it offers the option of allocated landed costs by value, weight and volume; Dear and Unleashed offer only allocate-by-value. The multi-entity support is presumably something of a workaround because you can't escape Xero being single-entity, but Cin7 offers some support; its competitors here offer nothing.
Support and business model
These ERP systems encourage businesses to use a 'partner' (a consultant) although you don't have to. Your partner should be an expert in the system, and hopefully an expert in data conversion, implementation, reporting and in helping you see and realise opportunities for the new system to grow your margins and results. Partners are independent of the vendor, except they earn a commission which is typically 15% to 20% of the monthly fee. On the flip side, the partner gets a free user licence to your deployment. There is no requirement from any of these systems that a partner be exclusive. Cin7 has a certification process; the others don't yet. 
Cin7 provides an excellent level of support, both to partners and to customers directly. The level of access and support from Cin7 is outstanding (phone calls, emails and tickets). The clients who are using or implementing Cin7 also get specific attention. If you are considering Cin7, you can expect that at least your partner will be closely supported. Cin7 also bolsters the partner more than other systems: the partner has access to the (long) certification material.
Unleashed offers telephone access, email support, a "university" of good documentation, and pretty good partner support (real people making real phone calls, including the founder who is quite keen to get feedback on the product). 
Dear was in the past quite hands off, but is now making much more effort to contact partners to seek input about feature developments. Dear's ticket-support is extremely fast and helpful. We usually get answers in less than two hours; for sure Dear does not guarantee this so we shouldn't set expectations, but the experience is good. First level support appears to extend well beyond Australian office hours, and it is very good. From time to time I find bugs, some quite obscure: did you know the official name of Brunei is actually 'Brunei Darussalam'? Dear fixed that very quickly, in fact I've never waited more than a few days for a bug fix (and I have only encountered minor bugs). The documentation is the best of all of the packages, and it is easy to search. All resources are open to all users, partner or not, and the support and feature request forums are active. 
Trade Gecko has spent a lot of effort on its knowledge-base and integrated help. It's now very good.  
In summary:  the support models are different but lack of support is not an actual problem for any of them, in my experience. In all the implementations we've done, we would not once flag support as a negative experience. The self-help experience is weakest with Cin7, but it has the best real-person help, and has a certification process for partners (so does Xero). 
Speed of Innovation, Customisation
All the packages here are growing in capabilities. You can expect significant updates two to three times a year, and as they are general purpose supply chain products, a typical user will get benefits. The packages are not really diverging from one another, but rather in a general purpose ERP arms race, which is great for customers. Two years ago I would have said Unleashed is getting left behind, but that's not true any longer.  
Cin7 will respond to user requests. I wanted to add a filter on the order list to see orders by ready-to-pick status (Something Dear has out of the box). Done in about four hours. The other packages will not do custom development full stop (although they are fast at fixing bugs). Requests for new features go into a prioritisation process which is very obscure.
How does the integration to Xero work?
The 'integration' is the way data flows between the systems. For example, the integration determines what happens when you ship an order or update a customer record. 
What you need the integration to offer
Firstly, the integration should be financially reliable. When the integration fails, you need reports to help you trace the error and fix it. 
Secondly, the integration should be efficient, allowing you to move from one system to the other without wasting time. 
Thirdly, the integration should let you capture valuable information. For example, you may want to trace sales and profit per location. You may want different product groups to have different sales and gross margin shown on the P&L. 
Unleashed, Dear Inventory, Cin7: synchronisation and payments
Dear's Xero interface is superior to the other systems. It has convenient "view in Xero" buttons which open to the relevant page in Xero.
Unleashed, Cin7, Trade Gecko and Dear (depending on your choice) become the stock ledger for Xero. This means these systems take ownership for anything affecting the value of stock: receipts, shipments, returns and adjustments. 
After the sales invoice or supplier invoice is generated, it is sent to Xero. Unleashed stops at this point: it will generate an invoice, but it lets Xero manage AR (applying payments, sending statements). Cin7 can record payments. It does not send them to Xero; however, it does send deposits (on both Purchase Orders and Sales Orders). However, you can pull customer payments into Cin7. It does not apply them to particular invoice, but it does at least help Cin7 manage credit limits. 
Dear Inventory offers two way sync of payments, by the most ambitious interface. Next best is Cin7, which helps with deposits, and tries to keep total customer balances in sync, if not per order. Dear's feature is very cool. It is also the source of most synchronisation problems, which somewhat increases the learning requirements. 
For example, Dear takes payments, and synchronises those to Xero, while also accepting payments entered in Dear. This means it has a view of the AR balance of your customers and can manage credit limits, even credit holds. In 2017 Dear has filled in some of the problems this approach caused, and now handles over-payments and customer credits quite well, and finally, we can create credit notes in Dear which are not simply a return or correction to an existing order.
So, Unleashed does not take payments. All payments are managed in Xero. Cin7 requires double entry of payments if you want to show payments on invoices made from Cin7. The second entry of payments happens in Xero; this maybe  a fast process due to bank feeds. It also means that it may not be so urgent to process the payment in Xero if you have recorded in in Cin7. However, this is a big difference between Dear and the other two systems. It most likely means that users will need to use both systems, depending on who processes customer payments. It also means that Unleashed's invoices can't show payments made already, and Unleashed can not manage credit limits. The only advantage is that you can't run into some of the sync errors which Dear has. On the other hand, this can not be construed as an advantage of Unleashed, since there is no compulsion to use Dear's ability to enter payments: Dear users can enter all payments via Xero if they want. 
For Unleashed and possibly Cin7, this means that more users will need to use both systems, depending on who processes customer payments. It also means that Unleashed's invoices can't show payments made already, and Unleashed can not manage credit limits (Cin7 can do both). The only advantage is no payment sync is that you can't run into some of the sync errors which Dear has. On the other hand, this can not be construed as an advantage of Unleashed or Cin7, since there is no compulsion to use Dear's ability to enter payments: Dear users can enter all payments via Xero if they want. 
In practice, the communication of "documents" back to Xero happens in the background, quickly. Dear and Cin7 sync on-demand, not automatically. Experience makes me appreciate this: I think it is a good decision. Dear has a period lock too (you can set a date, and nothing earlier than that date can be processed).
Customer and supplier transactions which don't affect stock don't need to go via the cloud ERP: they can go directly into Xero.
Single-sign on (one user id, one password) is supported by Xero & Unleashed if your organisation uses Google Apps for Work. Otherwise, you need to manage users in both Unleashed and Xero. In a typical $10m business, this means perhaps two to three users have accounts on both systems. Unfortunately, Dear Inventory ad Cin7 do not yet support Google sign-ons.
Multi-currency works well in all of these systems. A customer or supplier in USD, for example, will cause USD transactions to be sent to Xero, which then handles the payment according to your way of working. Stock is valued in base currency, and it is totalled (so Xero sees one balance sheet value for all stock, regardless of how many warehouses you have). 
In all of these systems, products can be assigned their own sales accounts and their own cost of goods sold accounts. Dear, Cin7 and Trade Gecko all have ways of mapping things directly to Xero's tracking categories (sub-accounts). Dear has the best approach, Trade Gecko and Cin7 have workable solutions.
Cost of Goods Sold
The COGS in perpetual inventory happens only when stock is marked as shipped. The sale is booked with the invoice is created. These don't have to happen on the same day, so you can get sales in one month and COGS in the next months, which can cause margin confusion. This is standard accounting practice but may need attention; some entry level systems don't do this. 
How good is the Unleashed/Xero integration?
Xero is not the only backend choice for Unleashed, but it is the most used and most featured integration option. More on choosing cloud accounting systems. 
Inventory valuation only supports one mode: average costing, in the base currency. Unleashed has a manufacturing module which comes with both simple kit building and more advanced genuine manufacturing, although it is not SAP R/3. The BOM allows was an estimate of wastage, but there is no official way to include overhead costs. Personally, I don't mind this since I am not a fan of fully absorbed standard costing, but if you want to do it, the workaround is not onerous. You can then do your month-end variance accounting.
From an accounting point of view, Unleashed manages the stock ledger and provides a perpetual inventory accounting system. Unleashed offers some landed cost functionality (so that duties, clearance, and freight forwarding costs can be absorbed into the cost of inventory, but there is only one choice of allocation key: weighted cost); good backorders; it supports a number of different order and ship processes, easily does multi-warehouse and works well with multi-currency and export. The accounting interface to Xero appears robust and it is increasingly sophisticated (products can have both sales and costs assigned to dedicated non-default accounts). Genuine cloud software tends to keep things simple which means we often face work-arounds, but Unleashed has made some good choices in its design to steer a compromise path which I have grown to appreciate. It also offers serial number tracking.
Unleashed has no tracking category integration with Xero. See below.
How good is the Dear Inventory/Xero integration?
At the time of writing (early 2017), it's even better than Unleashed. Dear has a better pricing module (including the possibility of customer/product specific pricing rules, which can be discounts, mark-up or flat pricing based, all with quantity breaks; this is on top of the standard 10-tier pricing which both Dear and Unleashed offer. Dear can do this rules by customer groups or specific pricing. It is a genuinely powerful pricing module). Dear has a  better landed-cost module as well. See below for more details.
Dear also allows tax inclusive and tax exclusive pricing, but they can't be mixed on the same order. 
For navigation between the two systems, there are helpful hot links. This screen shot is from Xero; the invoice came from Dear and there is a button which opens a tab in Dear showing the invoice. 

(Unleashed doesn't do this)
and of course, Dear Inventory lets you go the other way: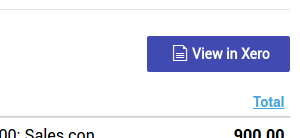 You can also jump from Xero's contact page to the Customer/Supplier record in Dear.
Dear has very good tracking category integration with Xero. See below.
Dear lets you assign products to different revenue and COGS accounts. You can also assign sales accounts at customer level, and you can even give customers distinct AR accounts. However, you can't choose to have both products and customers determining revenue accounts: Dear doesn't have rules to deal with conflicts, so it's one or the other. The flexibility is good.
The Quickbooks integration doesn't have these 'jump buttons' allowing you to go back and forward between documents.
Dear, Cin7 and Trade Gecko have tracking Category Integration with Xero which is a very powerful reporting feature
If you want profit and loss reporting breakdown into "divisions" of your business, such as the P&L at a location (Sydney, New Zealand) or by channel (Retail, Wholesale), this will be very attractive.
Xero lets you add one or two extra dimensions to the chart of accounts. These are commonly called sub-accounts but for some reason, Xero calls them Tracking Categories. Quickbooks Online has something similar, called Classes. 
In practical terms, it means then when you code something to Xero, you must choose an account, of course, such as Retail Sales. If you have a tracking category called 'location', you would then have the chance to enter "Brisbane", say (unlike the GL Account, you may leave the tracking categories empty). When you run your P&L, all sales are consolidated by account, so all your Retail Sales total, be they from Brisbane or Melbourne. But you can also run P&L limited to a certain selection of Locations: You could make a P&L just for Brisbane, for example. This means you need to code other costs per location, such as rent, but there is no setup. You don't need to make lots of GL accounts such as "Rent Melbourne" and "Rent Brisbane". Every time you enter any item that needs an account, you have a field next to it where you can enter a location. 
The screen shot below from Xero shows an example, from an invoice. Here, we have two tracking categories, one for  'profit centre' and the second one for 'Cost Centre' (such as marketing).  You can enter budgets per tracking category in Xero.

That's all very nice, but how to avoid doing all that coding? Dear lets you map a wide range of fields to particular Xero tracking categories. A very common one is to map the location of sale (e.g. Brisbane) to the location or profit centre tracking category. But you can also map many other fields. It is a very powerful feature.
Unleashed doesn't do it. Cin 7 lets you map locations. Trade Gecko has some capabilities recently, which I have not investigated yet. 
Below is an example of the mapping capabilities of the Dear / Xero integration between Xero's tracking categories and Dear entities. Customer Attributes are a set of custom fields. The list is bigger than the screen shot shows. It also includes custom fields from products and on the order itself. This really is a very interesting feature of the Dear / Xero combination.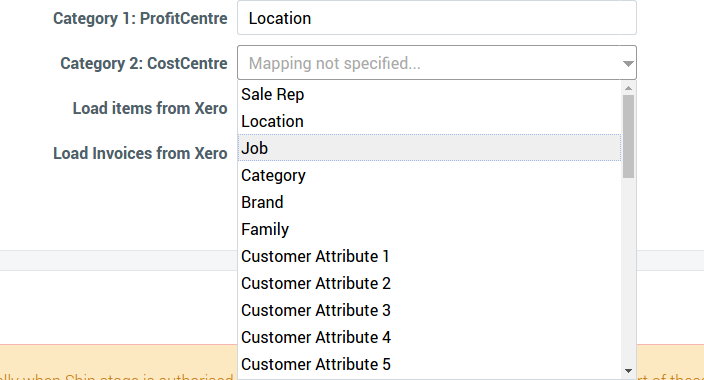 Custom Fields and Tags
The supply chain product captures a lot of specific transactional information, and it is the master database for products, customers, and suppliers. A business often wants to store additional information for better reporting. 
The most traditional way to deal with this is to add custom fields or use spare fields, on the key objects in the system (which are at least products, customers, suppliers, sales orders, purchase orders, locations, users).
Dear allows a set of ten custom fields to these objects: products, customers, suppliers, sales orders and purchase orders. The custom fields can be free text, a checkbox, or a selection from a predefined list. The custom fields are well supported in the API and the reporting module. The sets can be independent: one set for customers, one for suppliers etc.
Unleashed is just phasing in custom fields. You can define them for products and they can optionally be made compulsory (unlike Dear) At present (June 2017) they are not very well supported by reporting but obviously, this will come. The API supports them.
Dear also lets you add tags to some objects: Customers and Products. Tags are a very handy way of grouping things together without needing a hierarchy. Unleashed does not have tags.
Cin7 has some support for custom fields, but not consistently across all the objects. Dear is the winner.
Performance and Stability
The 'weak link' in performance and stability is Xero, not Dear or Unleashed. Both these ERP solutions are robust. Dear, for example, easily handles orders with 220 lines. 
Xero has for a long time mentioned transaction limits which seem very low, such as 1000 invoice a month. The story of Xero and its transaction limits has been confusing and unclear. Xero won't give a simple answer, but there are reasons for this: an invoice of 100 lines is more complex than an invoice of 1 line.  Unleashed/Dear take a lot of load from Xero and creates non-inventory invoices, which should be some advantage. Wholesalers are likely to be well under the 5000 customer "limit". On the other hand, businesses which are B2C and which therefore potentially deal with higher customers and transaction volume should consider consolidation techniques as a backup plan in case the load gets too high for Xero. Xero talks about '1000 invoices a month' but these are not hard limits; accounts are not terminated or processing stopped when these 'limits' are reached.
GrowthPath conducts real stress tests on Xero to see how it actually performs in a controlled environment. The first test results are now published and the conclusions are positive. We found that Xero delivers goods performance at transactions volumes well above the published 'limitations', although it has important bugs with simultaneous order entry. 
Unleashed, Dear and friends handle large volumes quite well. The weakest link for high transaction businesses will be Xero, but it performs better than you may think. Xero does have hard limits on API calls, which have been increased very significantly in 2017. In practice, GrowthPath rarely hears complaints from clients about the performance of any of these systems.
Product Costing, Margin Accuracy and Landed Costs
Stock is valued according to how much you paid to have it received (ignore manufactured stock for the moment). Therefore, stock value is a combination of the price paid to your supplier, and any third party costs, such as duty, clearance and freight forwarding costs. These systems all use perpetual costing. You can read more about perpetual vs periodic costing here. That article also has some background on what landed costs are.
Stock is always valued in the base currency.
Dear, Unleashed and Cin7 use FIFO costing (First In First Out): it remembers the cost associated with each receipt and uses that when calculating the cost of good shipped. If the stock in hand is based on multiple receipts, it uses the oldest stock first (the First In). This is a more advanced costing approach than weighted average, although over the long run they are the same. Older systems use average costing, but if you need a system which does costing per batch or per serial number, you need to cost using transaction history. All these systems do that, so they offer FIFO instead of average costing in the in the general cost. 
None of these systems use standard costing, so there are no variance accounts.
All these systems do not track costs per warehouse y default. So in the case of Dear, for example, if you are selling from Warehouse 1 but the oldest stock was received into Warehouse 2, it's the cost of the Warehouse 2 stock which will be used for the next shipment, even if that shipment leaves Warehouse 1. But batch costing allows a workaround to this which is not very inconvenient.
To cost landed costs, you need to tell the system that a certain amount paid to a supplier different from the goods supplier needs to be absorbed into the cost of the goods. 
Dear has very good landed costing, although the May 2017 update for Unleashed is a big step for that platform. Only Cin7 allows landed costing by volume and weight; the others are limited to spreading landed costs by weighted value. These three systems let you ship received before waiting for paperwork: the landed costs can be applied later. Of course, this does risk timing issues with your month end reporting. I consider Cin7 to have the strongest landed costing, with both Dear and Unleashed being acceptable.
Cost prices per location in Dear Inventory and Unleashed
Dear and Unleashed do not track costs per location. However, it is fairly easy to do this by using batch pricing. We have tested this only for Dear Inventory, but the idea should work in Unleashed too. Cost Price per Location in Dear Inventory
Manufacturing and Assembly Costs
The systems considered here support a 'backflush' approach to costing. You provide a Bill of Materials, and when you received the finished product into stock, the costing is done. This approach suits repetitive manufacturing, where a consistent recipe is used. During production, WIP accounting is used.
During the process of manufacturing, you may have less than perfect yield, and you may want to absorb non-stock costs into the finished product, such as sub-contractor costs, materials which you don't stock such as glue and packaging, and so on. 
Dear offers a better solution than Unleashed because you can directly include non-stock items (with costs) into the BOM (that is, overhead costs can be allocated into the cost price via the BOM). Both offer auto-assembly and wastage. Update: as of August 2017, Unleashed does this too. 
Below is a contrived BOM showing an auto-assembled item in Dear with both wastage and a non-stock component added to the cost.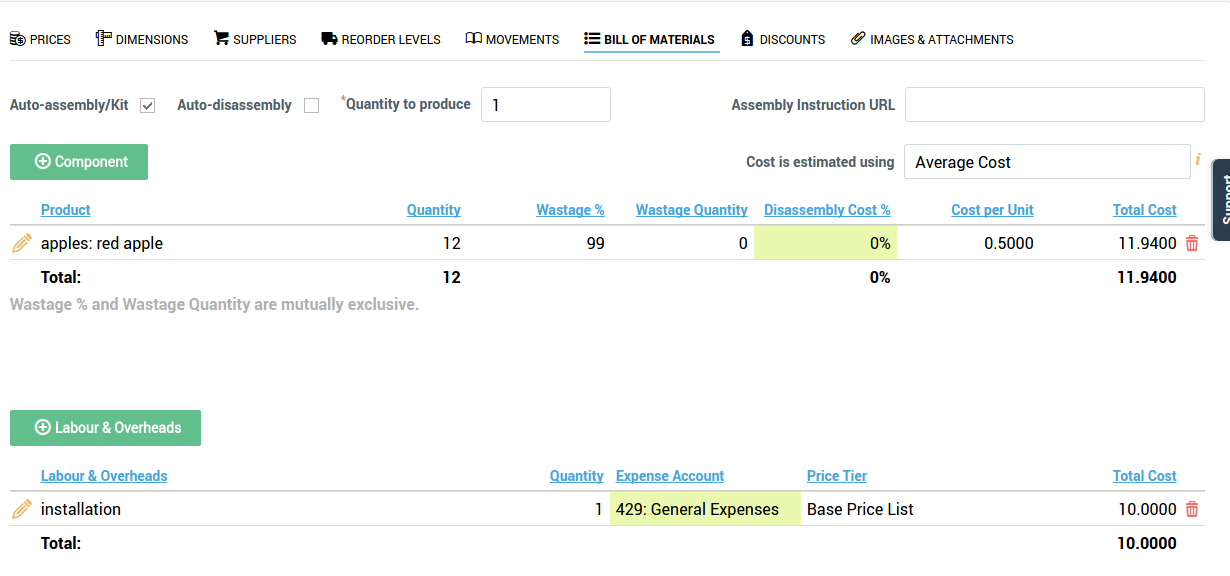 Job Costing / WIP Accounting
Dear also has a Job Costing module, which lets you assign ad-hoc costs and products to jobs. You could use this for make to order work if the process is long-running and you want to use Work-in-Progress (WIP) costing. Unleashed doesn't have this feature. Having said that, a standard repetitive production process in Dear goes through a pick process which takes component stock out and transfers it to WIP. Unleashed doesn't do this either (I think).
Cin7 lets an order get a Project Code; this is basically a tag. We can do this in Dear too, via a custom field added to the Sales Order header.
Documents (invoices, pick lists etc)
Documents and Forms are the mostly likely part of the system which need tweaking. Both these systems make this feasible for end-users.
I give Unleashed somewhere between a C+ and a B. First impressions were worse, but I have come to appreciate it more. Document design is entirely in the web front end, and there is no coding. The basic line (or grid) of each document is easy to modify. As long as clients don't want works of art, Unleashed lets you get functional documents. To get a better score, we need to be able to add bigger text blocks and more images. 
Dear follows the Xero approach of treating form design as a mail merge exercise in MS Word. This is powerful and very flexible, but you need to comfortable with Word Mail Merge. Overall, I'll score this as an A because it's flexible, quite easy and the same approach as Xero. 
Reporting
I am disappointed by the reporting, particularly in Unleashed. It is minimal and not customisable. A proper exploitation of Unleashed + Xero will require the use of a third party reporting solution which is fed transactional data from Unleashed. For day to day operations, the reporting is adequate. GrowthPath's more advanced clients have a data warehouse/BI solution; my recommended solution is Zoho Reports.
Backorder Management: A big win to Unleashed over Dear. Cin7 is good too.
Please note: Dear has been rolling out some improvements in late 2017 and these notes need to be updated.
Backorders mean different things to different businesses. Dear supports the most flexible approach to multiplying fulfilling orders, Unleashed is a close second and Cin7 relies on order splitting (which is an option in other two). However, while Cin7 has less flexibilty, it does its one way of working quite well. Dear and Unleahsed have been slow to support easy backorder visibility for customers. There have been improvements, but this is a really important area to evaluate when choosing a system.
However, Unleashed, as of June 2017, is clearly superior now for the business which has a customer-driven, highly interactive backorder process. This is a workflow I call the "MYOB approach" to backorders.
Unleashed's invoice template will show backordered lines (this is fairly new, so existing customers who missed this update will be pleasantly surprised). And Unleashed is much, much more helpful for reviewing a backorder. Update: Dear can show backordered lines on paper work too, now.
When you view an order, Cin7 & Unleashed both summarise in one place what was ordered and what has been shipped so far. You can hover over any SKU and you'll see current stock availability, and one click takes you directly to an overview of all orders with an allocation of that SKU. Cin7 also makes it reasonably ok to hard-allocate (that is, reserve) stock when there is not enough to fully pick an order. This is important for long-lead time products. If a customer orders 5 and you have 2 in stock, the automatic PO generation will order 3. But the 2 in stock can too easily be used fill another order, so when shipment of 3 arrives, the original order is still short. It is possible to do this in Dear with a work-around, but it is easier in Cin7.
Dear's visibility of a partially filled order is not great. It is not possible to see in one screen and it is not on a report either. There is no simple way to see per line what's still not shipped, and there is no interactive support to get insight about SKUs on an order. You need to have the Product Availability list open and you need to key in the SKU (one by one). Very frustrating when you have a customer on the phone. 
In mid-2017 Dear does at least allow backorder details to show on invoices.
The backorder situation is not a pretty picture for Dear. It is the one point that causes some GrowthPath clients to look for a different solution because there are not even very good workarounds. Dear has certainly improved but it is an area to test.
Cin7 allows only one shipment per invoice. A backorder needs the order to be split, which is an easy process. Dear and Unleashed let you meet an order by multiple shipments and invoices, including multiple shipments per order.
The Backorder Workflow of Dear
The backorder process in Dear is based on management of stock. Dear is very good at telling you which orders you can fully pick or partially pick, and it is very good at helping you manage reordering. It's really good. And once stock arrives, Dear is great at helping you know what orders can now be fully or partly fulfilled. Such a workflow means multiple invoices and shipments, and Dear does that very well. Dear also lets you combine picks and shipments. And to be honest, this is the best way to handle high goods flows. The MYOB-style approach does not scale. 
But the problem with Dear is that it only offers this way of working. Unleashed and Cin7 do both models: high volume flows, like Dear, but also the more interactive, adhoc approach of MYOB. 
Drop shipments/cross docking, Consignment stock
The three systems have drop shipping as an option. Cross docking needs to be handled either as a dedicated warehouse or as a drop-shipment. 
Cin7 has specific consignment stock management; the other two require use of a dummy warehouse (which is ok).
Multiple currencies: Very good
The three systems when connected to Xero handle multicurrency very well. The ERP systems will send invoices through to Xero in the customer's currency, and Xero looks after foreign currency customers and suppliers quite well, keeping the open AR items in the customer's currency (same with suppliers, of course).  So this is a genuine multicurrency situation. Xero is a single ledger system and therefore supports only one tax regime, so if you need to pay taxes in a foreign country, some workarounds are necessary. You can enter payments in Dear, and this works as you would expect, respecting the currency of the payment.
Multiple Units of Measure
Cin7 does this very well, natively. Dear has recently improved its offereing to be acceptable (multiple units are handled by an autobuild-kit, but the user interface now does all the setup in one screen).
Logistics, Warehouse Management and Integrations
Warehouse Management
Warehouse management means mobile support for barcoded operatings, bin locations.
At the moment, only Cin7 has mobile 'Pick and Pack' (it also includes stocktakes).
Dear launced a "WMS" (Warehouse management module)  in 2018, but Cin7 has a big lead. 
Cin7 has the most mature warehouse solution. 
Warehouse management also includes bin locations, pick zones, transfers etc. There is varying support for these features. There is still a gap between these products and specialised warehouse management systems.
POS
POS is a big topic. Cloud POS in general is quite good now, although you have to make sure you source compatible printers.  Both Cin7 and Dear have POS offers, Cin7's is more established and more advanced. In terms of CRM, marketing and promotion support, it is not as good as Vend, but it wins with really good inventory support (stores can see stock at other stores and backoffice stocks) and it makes it possible to do omni-channel things, like routing orders to different outlets. My feeling is that for multi-outlet chains, the stock integration of Cin7's POS starts to outweigh some of its weaknesses with limited promotion support. 
Note that if you are using a POS, then you probably want some inventory handling features in the POS, since you want your retail outlets to receive stock, send stock to branches and do stocktakes. Cin7's POS has some support for this, and GrowthPath has retail clients who are pushing for improvements in this area; I think that Cin7 will have a good lead in POS solutions for some time.
Notes about 3PL integrations: A big win for Cin7.
Cin7 will build 3PL integrations as part of its offer. It can work with either FTP or REST file transfer options: it depends on what your 3PL wants. This is a good feature and it is quite mature in Cin7.
Dear and Unleashed do not do this, 3PL integrations require API coding.
Barcode Support
Cin7 has the best barcode support. Dear's is quite good, but the big gap is a mobile warehouse solution, that is, an iPad or smartphone application which lets warehouse staff go to where the stock is and barcode pickruns and stock takes. Dear should have a mobile-device Pick and Pack solution in the second half of 2018, currently it is beta. 
Integration (3PLs), API and Workflow
For integration, cloud systems support
pre-packaged integrations
third-party integrations
Zapier pre-configured transactions
Do it yourself via APIs
I can code and I find APIs easy to use, but I have years of experience with business systems. It's not just the coding, but respecting how systems should interact.
A huge advantage of good cloud software is the API, which lets a programmer familiar with basic modern techniques get access to the underlying transactional data. From there, all kinds of new insights and efficiencies are "unleashed". Xero has a good API. Unleashed and Dear both have APIs which have gaps, but they are quite good. Dear's is more modern but it doesn't matter much. Dear rolled out V2 of its API in early 2018. It's a big step forward and it is clearly the best API of its competitors, including Cin7. 
It appears to GrowthPath that Dear has a better engineering approach to third party fulfilment, and if offers a consistent approach to orders arriving via platforms such as FBA, Ebay, its own B2B portal and others. 
Cin7 has the biggest pool of 3PL integrations, and considering that they will build integrations per implementation project, if certain conditions are met, its advantage in this area will grow and grow. 
However, Dear clearly has the best API at present; the capabilities of integrations with Dear has higher than Cin7.
GrowthPath has built a number of advanced integrations into these systems.
Specific notes about Dear and Cin7 Shopify Integration
Dear and Cin7 both have supported integrations with Shopify. Cin7's is more advanced: it offers more flexibility over importing, and it is clearer about product mapping, Cin7 also has a demand-based response to how often it fetches, busy sites can expect a sync ever 7 minutes. Cin7 supported Shopify's new multiple location feature even while Shopify still has it in beta, which is a big statement about how committed Cin7 is to the interface. 
Dear has the advantage of payments flowing though to Dear and then to Xero; Cin7 doesn't sync payments ... but Cin7 has better batching options to buffer Xero from high transaction volumes.
But both packages work fine with Shopify, but Cin7 is superior overall. 
Specific notes about Neto integration
Cin7 has a good Neto integration. Dear has abandoned this integration.
EDI
Once again, this is a big point of difference for Cin7. It supports EDI native (EDIFACT EDI), and Cin7 is quite familiar with Australian and North American EDI partners. Cin7 becomes your EDI partner, so some costs may drop out if you are using some other service for this. 
Web-hooks, workflows and notifications: New powers for Dear Inventory
For Dear, there are some advanced features coming soon, such as web-hooks. These are 'push' events where Dear will tell other applications that something has happened (such as an order arriving or being shipped). At the moment, applications need to repetitively ask for updates. Dear already has a user-facing implmentation of these 'push-events' in the Notifications module, launced in 2018. This may not sound very exciting, but it a very big step. For businesses using Dear, notifications mean a workflow system. For API developers, it means much better integration possibilities. Dear will use Notifications to offer a Zapier module. Zapier is a "user-friendly" zero-programming API tool for connecting applications. 
The screenshot below shows some of the events which are supported by Dear's notification module. Any of these events can cause an email update (to staff, suppliers or customers), or an internal notification. This is just the beginning of what will happen with this emerging capability.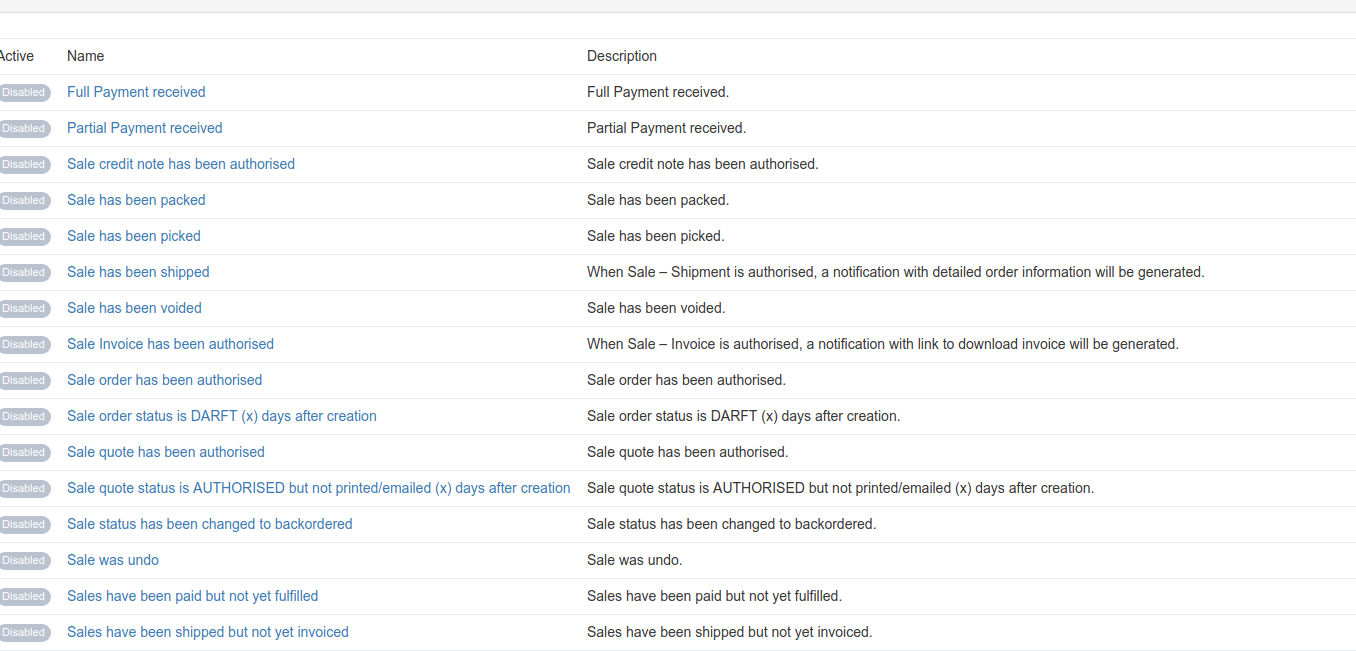 Alternatives
Cloud-based supply chain systems for smaller businesses is an emerging market. Traditionally business would be looking at monolithic ERP systems hosted on in-house servers, using Windows desktops. For cloud systems, I can name TradeGecko, Stitch, Cin7 and Dear Inventory as competitors to Unleashed. 
TradeGecko has a great API and it supports tags, but its decision to handle customer payments is awkward, and its backorder support is not good enough for wholesalers. However, it has some areas of real strength and I'll be keeping an eye on it. 
Dear Inventory has made some very interesting progress and in Q4 2015 it is now a very serious competitor, possibly even the leading choice. Firstly, it released a good, modern API in 2015. Secondly, its Xero interface is substantially more powerful than competitors. One feature which is very compelling is the ability to map attributes to Xero tracking categories. For example, if a business has different locations and wanted to run a P&L for each location, you would set up a Xero tracking category (or QuickBooks class). In Unleashed, each invoice belongs to a location. You set up the interface to map an Unleashed location to a Xero category, and automatically the sales and COGS go to the right P&L. This is an advanced feature. Dear also offers two way payment sync.  
There are 'cloud' versions of monolithic packages competing in this market. Many traditional ERPs will not survive the move to the cloud, but some with big backers are becoming hosted solutions, which I call "cloud look-alikes". These are browser-based versions of the traditional approach: everything in one system. They tend not to offer APIs since behind the scenes they are reusing older code. They offer better traditional functionality, more complexity, less integration. Pricing is per month per seat, and you don't need to bring a server. They are cloud packages in the sense of being software-as-a-service, but they are not based on a "best of breed" approach and open integration, which I call "pure cloud".
The decision to go with a traditional or hosted system could be based on the superior functionality. The more your business depends on services, differentiation, and complex sales cycles, the less advantage the traditional systems will have because you will be trapped by their compromises and lack of flexibility, but the more traditional your business is (make and sell something), the more appealing you may find the traditional approach.
The culture of your business is an important consideration. Simple systems are easier to recruit for and easier to introduce to a business which has been relying on low-tech, ad-hoc approaches. Powerful tools demand more from the day to day users of the system: the coding decisions required when entering a sales order can be much more demanding, for example. 
Cin7 is a different beast, being larger in scope but more expensive.
The 'online shop' alternative (e.g. Neto)
The sales channels of medium sized wholesale business are transforming. The facility to take wholesale orders, remote rep orders and online market-place orders are becoming more important. It turns out that this opportunity has been noticed by online stores. Neto, for example, provides a lot of wholesale functionality, including good pricing support (better than Unleashed), multi-warehouse, integration with third-party pick and pack, good mobile support. It even has some serial number support. It doesn't do manufacturing and the purchasing and costing functionality is not as good as Unleashed, but its e-commerce support may be more than enough compensation for some wholesalers. Neto is Australian, and in June 2015 Telstra announced that it had taken a substantial share holding.
Neto now has an ERP-lite backend. It is however still immature with a small feature set; it can not be considered a competitor to the systems discussed here. Meanwhile, Dear and Cin7 have POS & B2B solutions, and Cin7's are very good already, Dear is ready for use and developing fairly fast. Unleashed now has an emerging B2B offer, but this reinforces the perception that Unleashed is playing catchup. 
One thing is for sure: the very active market and rapid development in pure cloud ERP and accounting shows how comprehensively new players have taken the initiative.