Cloud software is simple. Implementations should be too.
Since 2013, a 100% success rate (client still using the system three years after going live).
We reduce risks
By being vendor neutral, and using our Go/No-Go milestone, we eliminate the wrong-system risk.
We focus on pragmatically getting ready to go live. There are always surprises after going live. We build that in to the project plan, an approach born of our experience on both sides of ERP implementations.
Advanced Data Conversion
With deep expertise, automation, API scripts and a lot of business feel, we treat your valuable historical data very seriously. Data conversion done wrong is huge business risk.
We build self-sufficiency
Our fixed price implementations finish with a Handover milestone, not with a Go Live milestone. We guide implementations with a strong focus on knowledge transfer.
This is your new system. Your key users need to explore it and learn it, which is why we guide the implementation, rather than manage it. The result? No reliance on third parties to keep using the system.
In-house CRM, Analytics and 3PL connections
GrowthPath has mature CRM connectors with both a simple CRM, CapsuleCRM, and an sophisticated CRM, Zoho CRM. Our integrator goes well beyond standard connectors, include two-way contact sync and quote sync.
We have a sophisticated and powerful Dear to Zoho Analytics connector, which can even source data from different Dear instances in different base currencies.
We have a framework for powerful 3PL integrations
We have advanced reporting for long-lead-time businesses, including promise date calculations based on in-bound POs, even fast enough for dynamic updating of Shopify shopping carts.
A GrowthPath project proceeds in milestones, until all the key pillars of the ERP implementation are ready.
Reaching the Go/No-Go milestone is the first part of the project.
Cloud ERP Implementation FAQs
How long does it take?
Three to five months, typically. Very hard to do it faster and do a good job. If you want to rush, you can expect higher fees because the risk of rushed projects goes up a lot, and we value happy, self-sufficient clients. To succeed, we need real users to work in this project, and real users have real jobs to do in the meantime. For a three month implementation, we will plan two sessions per week for training and follow up on configuration and questions.
What about the planning fallacy?
The planning fallacy means projects usually take longer and cost more than people think, because people are biased towards optimism (which is usually a good thing) and because there are people who benefit by promising a faster completion date than they actually think is possible.
The best advice against falling into the planning fallacy is to
(a) not to treat the next project as something completely new, but to instead respect the experience of previous projects
(b) make sure people don't have incentives to over-promise
GrowthPath does fixed price projects, and we base our estimates on experience.
How long does it take someone to learn the new system?
A a rough rule, users should allow 20 hours of good quality system exercises to reach sufficient competence to go live.
Most of of this is self-directed learning. GrowthPath does have project options where we provide a lot of hands on training, but most clients don't pay for that, and have very successful implementations anyway. In these standard implementations, users get about five to seven hours of training with GrowthPath. We prefer this approach, because it cements knowledge transfer and the objective of becoming self-sufficient.
How much does it cost?
GrowthPath does fixed price quotes. Our proposal is based on a quite a lot of preliminary information gathering. The proposal will include options regarding the amount of data conversion required, the type of training, whether GrowthPath does project management or not, the integrations required, the functionality required and the selected ERP system.
The fees are designed to reduce risk. This means you can stop the project if the Go/No-Go decision is unfavourable, and you will only be charged for the clearly defined fee to proceed to that point.
Does GrowthPath visit on site?
It's the cloud, so we do most of our implementations using remote technologies. We can be on-site, particularly in Asia where travel times from our Australian/ASEAN home base are reasonable. If you are based in Melbourne, you can expect onsite visits. We have implemented in Europe, Asia, and through Australia, many times without being on-site.
For business which have staff in multiple locations, our ability to remotely manage these projects is a big advantage, since even if you bring everyone together for training, multi-location support is unavoidable during and after the project. Better to choose an implementation partner who knows how to make this work.
Should we do a parallel run of old system and new system?
No. We go live when we are ready to use the new system, and that's it. Running two systems is much more than twice the work, and because systems work in different ways, you can even in a perfect world get different results.
What is the best time of the year to go live?
Our clients go live around the year. You don't have to go live at the start of your financial year. It is better to time it for a quiet period, if you have seasonality. Going live part way a financial year means some extra work bridging old and new (in payroll, for instance) but this only happens once.
Simple and Collaborative Implementation Projects
Cloud systems are simple and fun to use, and I keep the same approach with project management. Trello is a good tool. It manage due dates, it assigns tasks to people, and it's easy to use. Visually, it is easy to see what needs to be done. All key users are board members.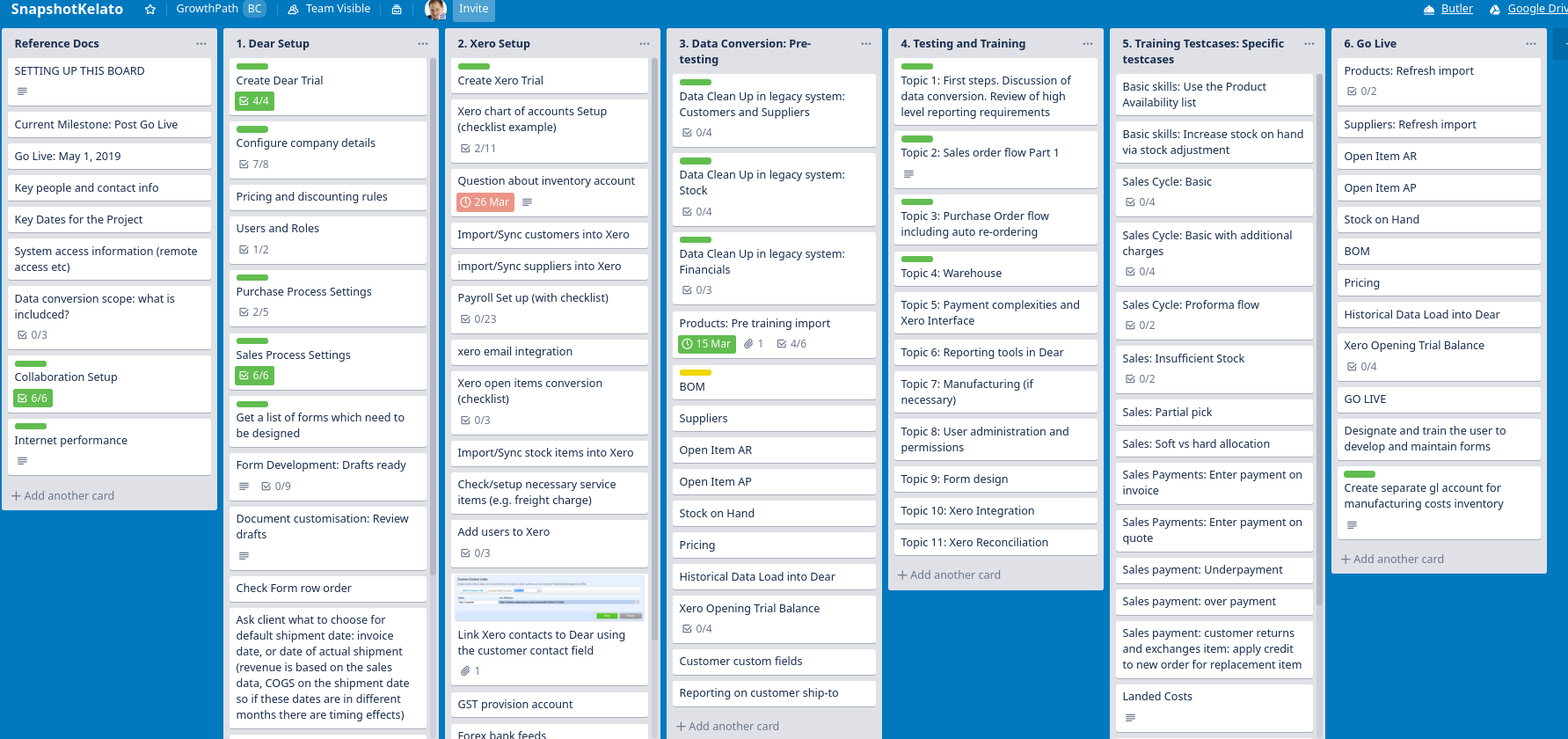 A copy of a typical Trello project board
The Project Milestones
1. Preliminary Shortlisting
Based on interviews, a recommendation is made, addressing the scale of the business, the processes of the business and the information requirements. You should see a demo of the recommended solution, and spend some hands on time in a demo environment, to get a high level feel for how it works.
A very early GrowthPath question is: what reporting, analysis and insights do you need?
We have a detailed on-line interview used to gather a good foundation, and then we use interviews and reviews of the existing reports.
Sometimes, there may not be a clear candidate, but this is rare. Also, it is possible that a business is too complex for cloud ERP.
Progress by end the of Phase 1


2. Validation/Go No Go: The most important milestone

In the Validation phase, we prove that the selected system has a high chance of succeeding.
This is the most important phase. A possible conclusion is not to proceed, but if we do proceed, we can be confident of a successful implementation.
This phase is a careful balance of investigation, setup and system exploration, without investigating every nook and cranny of the business.
It is not feasible to test every possible situation because of the time and effort applied. Auditors face a similar problem, and we use the same type of risk evaluation approach.
For success in this phase, we do a good chunk of data conversion, so there is real data to use for the validation testing. This involves key users, which is is why their system knowledge takes big steps.
Show Stoppers
Key functional areas to examine for the go/no-go decision include:
Transaction volume
Price rules
Backorder management
Manufacturing/contract manufacturing
Critical reporting requirements
Critical compliance requirements
Progress by the end of Phase 2


3. Go Live
Going live focuses on data conversion, getting forms and reports ready, and completing the training of key users. This is a busy phase, with a lot of attention to detail, and with users doing considerable self-learning.
You may consider this as the real go/no point, but GrowthPath has never had a project fail if the decision at the end of Phase is to proceed.
Progress by the end of Phase 3

4. Support
Depending on your agreement with GrowthPath, you will have a period of support, usually two to three months.
5. Handover
When the support period is completed, we have reached handover. Your ongoing support needs should be met by the vendor of your system. GrowthPath is always available to help if required, but we do not make ongoing support an expected revenue flow. Our clients achieve self-sufficiency.
Project Timing and Client Commitment
The exact time for a project depends on the complexity of the project, the time required for technical work and the availability of key staff.
GrowthPath proposals provide more information based on the specifics of the project.
Typical projects take three months to reach the Go Live milestone, and three more months to reach Handover.