Spending $2000 to $5000 on a tailored business plan will seem a lot of money to some, and to others, it's a small cost compared to the potential it unlocks. Read on, and judge for yourself
Starting a new business? GrowthPath Business Starter Package
GrowthPath's role in funding business growth, and why a strong business plan is essential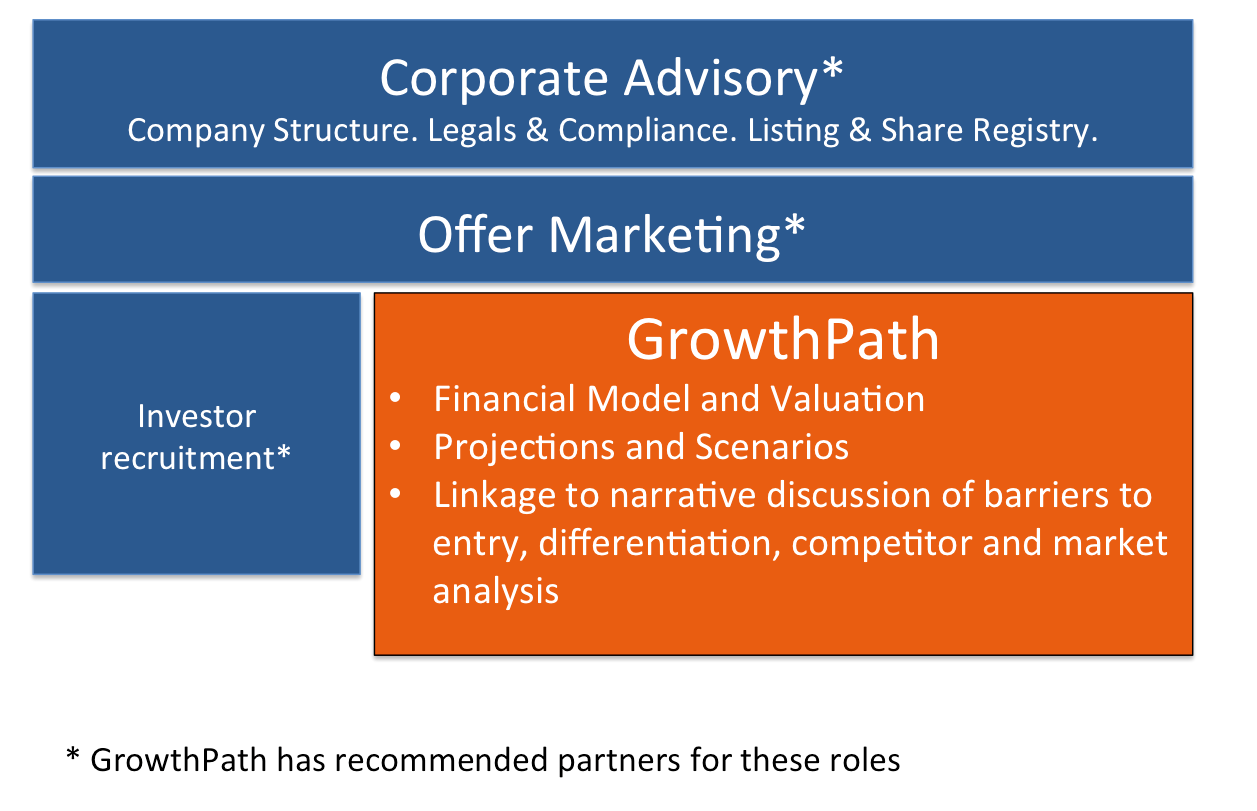 Download free business plan sample content
What's included in a GrowthPath Business Plan
Market and industry research

Competitor analysis

Scenario-based financial model

Forward-looking financial statements

Risk and contingency planning

Optional web-ready video and animations
Recent plans:
Two online retailers

Medical service

Small-parcel Logistics business

Hybrid online/physical intermediary

Four points where Business Plans must convince
Credibility: market and competitor analysis, risks and realism

Upside: Focusing on growth potential and revenue models

Business valuation: Calculations based on scenario-based cashflow projections allowing comparable outcomes

Sustainable advantage: Showing how the business idea is different to competitors
The four key targets for business plans
A business plan needs to be written for the correct audience, because each audience is persuaded by different approaches.
The four main audiences and reasons for a business plan are:
Investors: To raise funds to take advantage of a business opportunity (or to sell the business)

Lenders: to raise funds to grow the business (cashflow or capital investment)

Government or industry body: To win a necessary business licence, permit or grant

Owner and senior management: To define business goals and build a path to reach them
A strong business plan is targeted at the main audience.
Successful business plans...
Use credible market analysis and explain a point of difference with reference to real competitors

Build on the point of difference to show barriers to entry making the idea hard to copy

Clearly explain the business engine: how revenues are made, and what drives variable costs and overheads

Are upfront about assumptions, and use scenarios to explore the financial impact of assumptions

Demonstrate risks and cover Plan Bs

Link the story to a strong financial forecast, with cashflow at the heart, and a business valuation as the most important conclusion.
At GrowthPath, we develop the forecast model simultaneously with the business plan. The model teases out the key assumptions, barriers to entry and drivers of cash-flow, and the plan drives insights into the costs, market size, SWOT and competitor positions. Developed together, these two components fuse to a strong, powerful and inspiring plan. It's the Integrated Valuation and Narrative Business Plan.
The risks of "fill in the blank" approaches
Differentiation is the key to sustainable growth. Don't obscure this with me-too business plans.
One of the core messages of a business plan is how you are different from competitors. This is a difficult point to win if you're using a cookie-cutter approach. Business plans where you fill in the blanks will be as useful as fill-in-the-blank resumes. If you think your business ideas would benefit from a tailored approach by an expert practitioner, you may like to learn more about GrowthPath's approach. The difference will be clear to experienced readers ... and remember, you may not see business plans very often, but most of your target audiences see them all the time. A business plan tailored to your situation will jump out.